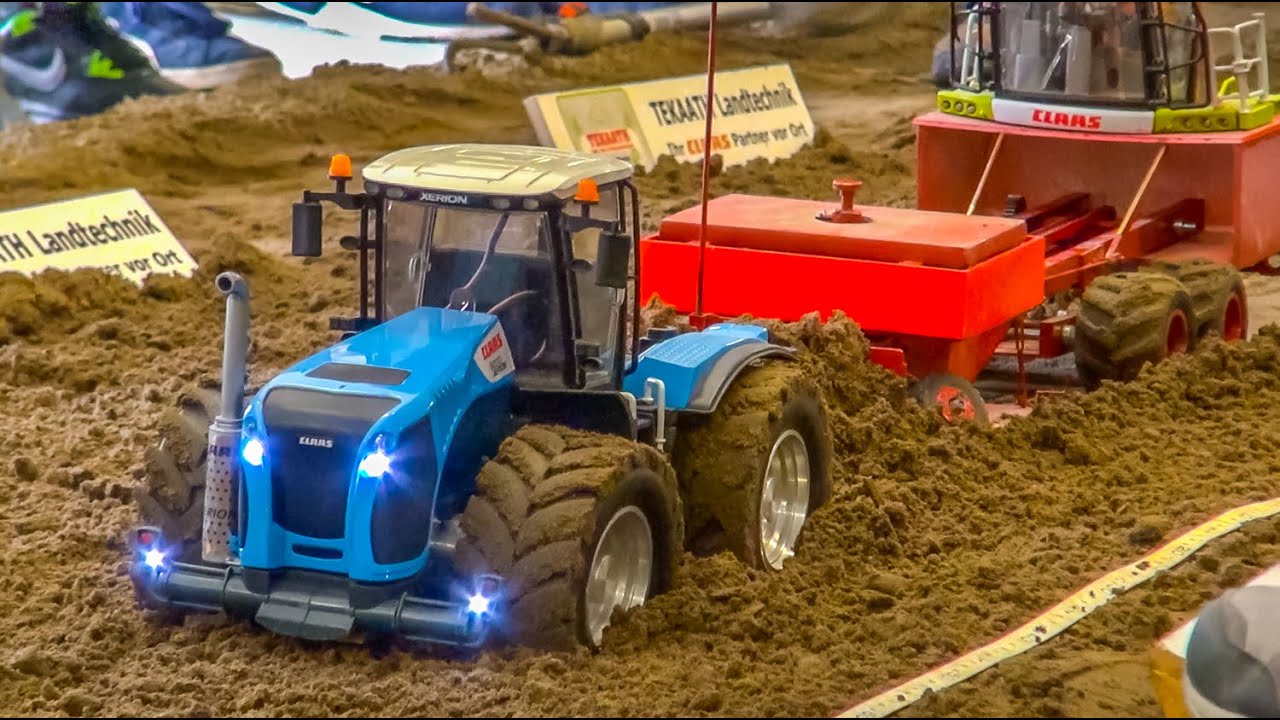 There are many ways to bring out the hidden farmer in kids through a wide range of agricultural toys and accessories. RC tractors are one of the most popular agricultural toys that let kids experience life on the farm from the comfort of their own home, yard or garden.
These toys have become more realistic in recent years with a wide range of features that are just like the real thing. As these types of toys improve they become more remote from the user and carry out all of the tasks their real-life counterparts do.
RC tractors are a popular toy for any budding farmer. Most include a realistic tractor body, sounds, and lights. As well as looking and sounding just like the real thing they can carry out the same tasks too, all be it on a smaller scale. Modern RC tractors allow the user to do many of the tasks real tractors complete on a daily basis. With the help of a range of accessories, you can dig, transport objects and do many other tasks real tractors do. Typical accessories include front loaders, trailers, dumping wagons and balers which can all be hitched onto these tractors or attached in other ways.
The RC market is extremely competitive and these toys continue to improve. A lot of research and development goes into making these toys as realistic, robust and entertaining as possible. The most popular and high-quality manufacturers of these toy tractors include Nitro and ERTL who have a wide variety of RC tractors available. The most popular tractors include various John Deere, Case, and New Holland models. Like any product, the quality of the features will depend on how much you're willing to spend.

RC tractors are suitable for outdoor and indoor use. If you are using these tractors outside, they can be used on various types of terrain so they're sturdy enough for outdoor play. On the other hand, they are also suitable for indoor use. Some have a quiet mode that reduces sounds coming from these toys if they're being played with indoors.
RC tractors are a lot of fun especially on the pulling contests they simulate the real thing. Most of the RC tractor owners are tuning their tractors and upgrading their performance for better results on the contests. It's not unusual to be able to control these tractors from as far as 50 feet away. More expensive models have a further range. If you're feeling lazy it could even be used for useful tasks such as transporting timber or other fuel and objects around your home.
Toys are becoming more and more realistic. Digging, transporting items and other jobs done by tractors are just some of the things these RC vehicles can also manage on a smaller scale. Advances in RC technology have led to a range of high-quality RC tractors that have captured the imagination of kids, teens, and even adult everywhere. Inside many of us, there's a hidden urge to be a farmer. For most kids, one of the first toys many of us had was a toy tractor so these RC tractors take this to the next level.